Among the numerous video conferencing tools available in the market today, Zoom has managed to take the top place due to its convenience, ease of use, and versatility. Many people say it's the best cloud audio or video conferencing platform for conference calls, meetings, webinars, among others.
Recording a Zoom meeting allows the participants to focus on the conference and avoid getting distracted during note-taking. It is an excellent way of getting future references and sharing the meeting content with other people like absent colleagues.
Recording a Zoom Meeting or Call
To make the content of your meetings, calls, and webinars available and accessible, the host needs to record them or give the participants recording rights. There are few and easy steps to take to make the recording, as discussed below:
Step 1: Start the Meeting
To start recording, start the meeting session once logged into Zoom, and before enabling screen sharing, start the recording.
Step 2: Record and Download the Zoom Meeting
While on the Zoom meeting screen, select "Record" from the menu bar at the bottom of the screen. The recording of your meeting is now in progress. You can pause or stop the recording using the buttons.
Step 3: Recording After Screen Sharing is Enabled
If you want to start recording after sharing your screen, click the "More" option from the menu. On the drop-down menu that appears, select "Record". If you finish recording or wish to pause the recording, go to the "More" option again, then from the drop-down menu, select "Stop Recording" or Pause Recording" as appropriate.
Ways to Transcribe Zoom Meetings
Once your meeting is fully recorded, you will need a way of quickly retrieving the recording for reference or transcription. You get an email with a link to your transcription file after each meeting. You can transcribe Zoom audio recordings automatically if you saved them in the cloud, and not on your computer. To achieve this, use the Zoom transcribe feature. Click the "Audio Transcript" option after choosing "Record to the Cloud." Navigate to the "Advanced Cloud Recording" feature, select "Audio Transcript," and save changes.
The transcript will be processed as a .vtt file and stored in the list of the recorded meetings. The transcript produced by automatic transcription contains time-stamps for several sections. You can edit the text into a more accurate transcript, adding capitalization and punctuation not captured.
The automatic speech to text solution has low accuracy levels, and it's only available for cloud recordings. However, if you want to convert audio to text with high accuracy levels, you can use a transcription service like GoTranscript, which offers 99% accuracy (or higher) and a swift turnaround.Step-By-Step Guide on How to Carry Out Zoom Transcriptions
Step 1: Go to gotranscript.com and under "Get started today," click the "Order Online" button.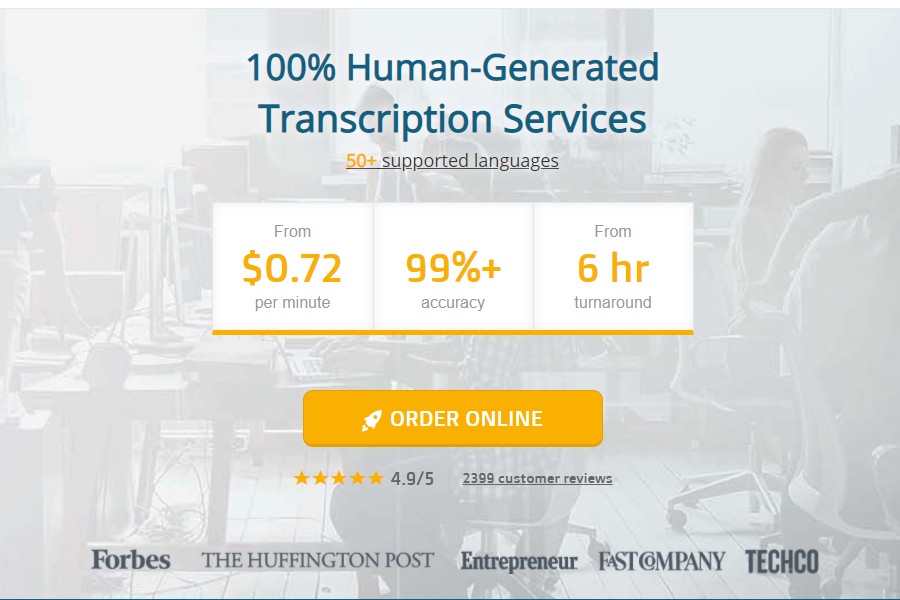 Step 2: On the next page, choose either "Upload Files" or "Paste URL," depending on where your files are stored. Use the file browser on your computer to upload your Zoom calls or and any other audio and video files for transcription.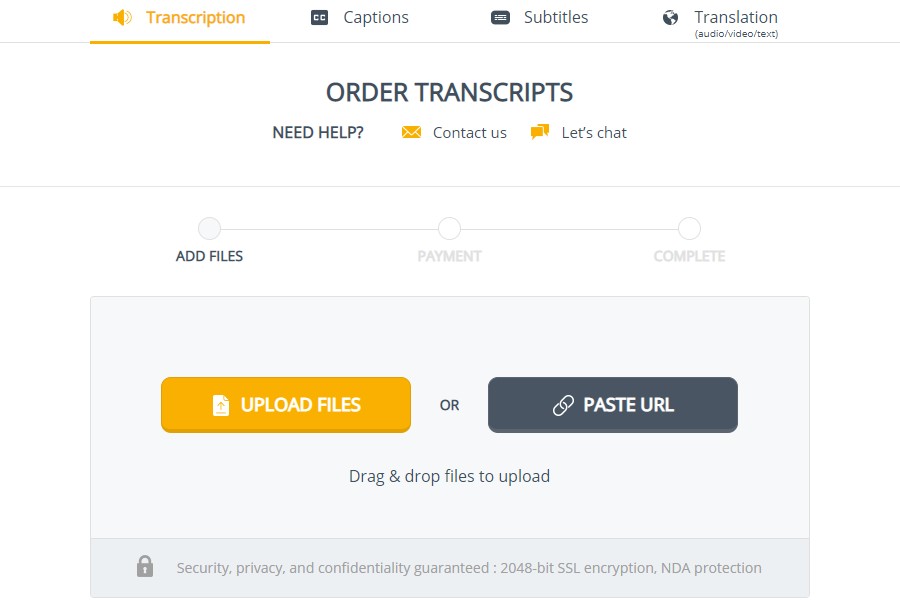 Step 3: You can upload multiple files. Once done uploading, you will get a summary of your order with the number of files and their duration. You will also get the estimated turnaround time and the price. The turnaround time varies from anywhere between six hours to five days, depending on your requirements. If you need the work done faster, the price goes up. The default turnaround time is five days.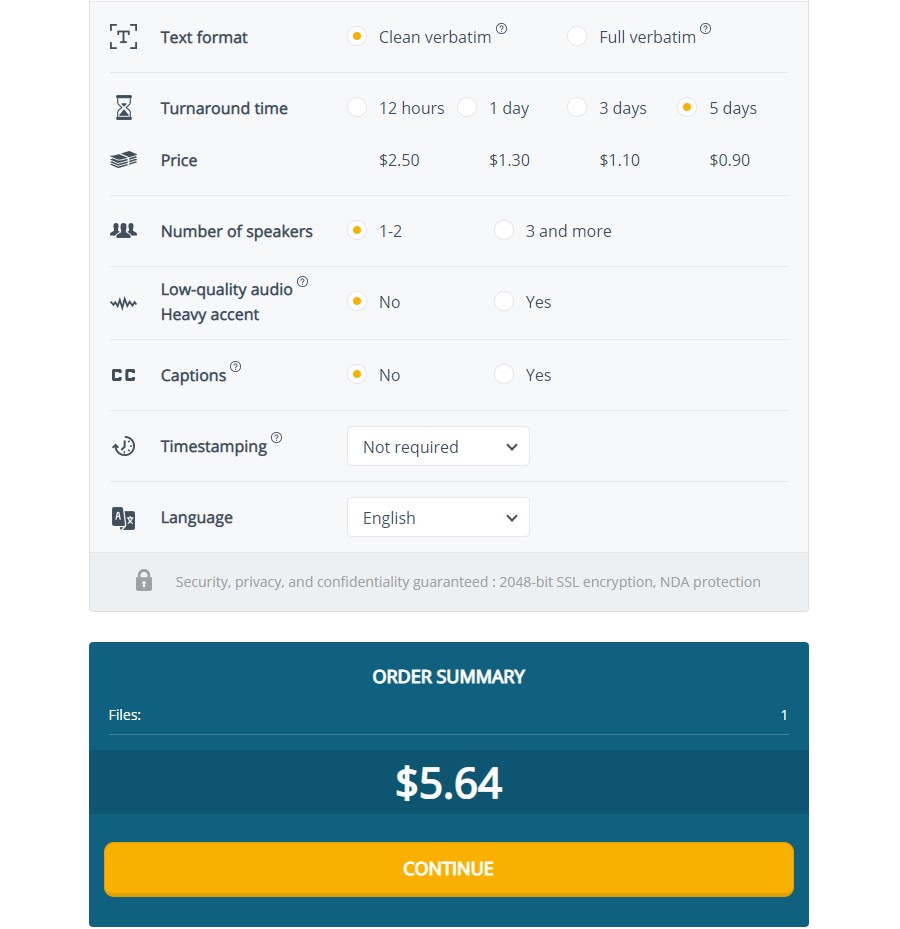 GoTranscript transcribers work 24/7 to ensure that you get a complete, error-free verbatim transcript. There's an option to choose the full verbatim text format, so everything gets transcribed, even incomplete sentences. GoTranscript has a global team of 20,000 expert transcribers, so your transcript is 100% human-generated, which guarantees maximum accuracy. The security of your transcript is also guaranteed with a 2048-bit SSL encryption.
If you use GoTranscript services frequently, you can take advantage of their Customer Loyalty Program, where you will get the lowest prices, as well as special discounts. These discounts vary between 5% and 20% off, depending on the number of minutes that you order.
You can choose the time-stamping option if your recording has multiple speakers or if you want easier navigation through the recording. Time-stamping helps you to locate and reference recording sections quickly and get the details you're looking for.
Once you have selected your options, click the "Continue" button. You will be directed to the payment page where you have several payment options like PayPal, Visa, Master Card, and more. After making the payment, sit back and relax while you're waiting for your transcript within the stipulated time.
Reviewing Your Transcript
Once your transcript is ready, you will get an email notifying you that your transcript is finished and ready for review. Clicking the review button will take you to your GoTranscript account, where you'll be able to review your transcript. You can listen to the recording as you read through the transcript to catch and fix any errors. Editing may involve highlighting, adding notes, and more. Once you are done reviewing your transcript, you can then export in Word (.docx), plain text (.txt), or portable document (.pdf) formats, as you prefer.
Conclusion
Recording and transcribing your audio meetings, calls, webinars, and interviews offer an excellent way of making them readily available. Offering the contents of your Zoom meeting in a transcription form allows more convenient sharing, while ensuring you get all the details. Most importantly, a transcript eliminates the need to replay the audio every time you want to refer to a specific section of the recording. Transcription will provide an easy way of documenting all your Zoom recordings. GoTranscript offers 100% human-generated transcripts for all sorts of content. With over 15 years of experience and many satisfied clients, GoTranscript guarantees maximum accuracy, quick turnaround times, and affordable prices.