Hardcoding subtitles into a video means that they will display during playback no matter what. Unlike other types of subtitling, which can be freely toggled on and off during playback, videos with hardcoded subtitles don't allow this type of freedom. When a video has subtitles "burned" into it, it will look the same regardless of where you play it. The process of hardcoding subtitles involves writing the subtitle track into the video. This is the reason why videos with hardcoded subtitles will always have text on top of the image.
Benefits of Hardcoded Subtitles
There are many reasons why you would want this. For example, hardcoded subtitles have no requirements for extra plugins and files, meaning that we can display our videos with them on any computer, phone, TV, or any other device you can think of without any restriction. People will be able to see the subtitles no matter the setup they have. Additionally, some social platforms like Instagram and TikTok don't allow you to upload SRT files to their platform. These files are the ones that are commonly needed to overlay subtitles into our videos. There's one thing we have to be mindful of. Once subtitles are hardcoded into a video, there's no way to edit or remove them.
In this article, we'll take a look at how to hardcode subtitles into our videos with two methods. One that we can do ourselves with free software and one with the assistance of a professional online service.
We need three things for this process:
A SubRip Subtitle file (.srt)
VLC Media Player (which you can download from their website for free)
The video to which we'll be adding the subtitles
Be sure that your SRT is appropriate for your video and corresponds to the actual content. In case you pick the wrong subtitles, you'll have to repeat the whole procedure from the beginning.
1. Open VLC Media Player and add your video
Open VLC Media Player. Move the mouse pointer over the "Media" tab and click on the "Stream..." option. You can also use the hotkey combination of CTRL+S to open up the "Stream" option directly.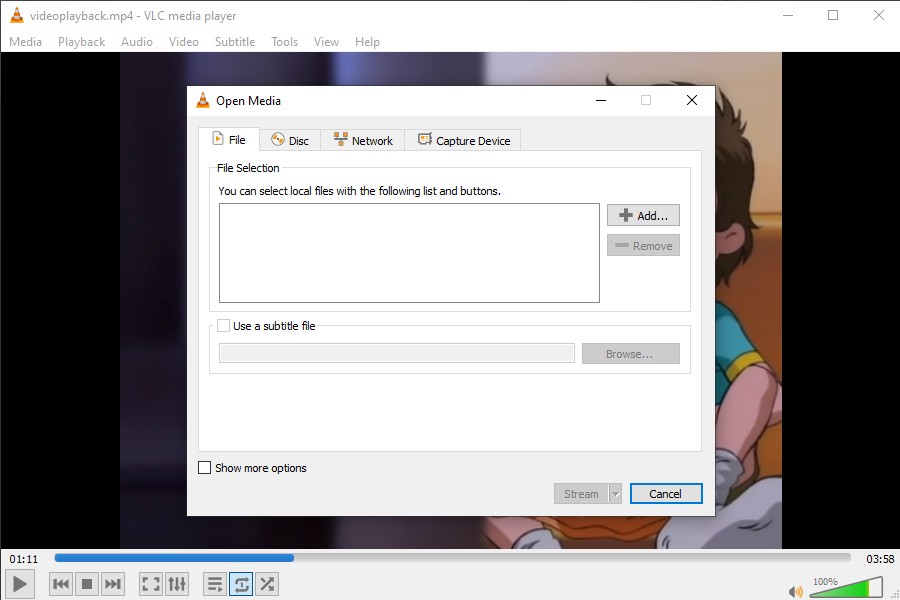 Add the video you want to hardcode the subtitles into by clicking the "Add" button and selecting the location of your video file.
2. Add the subtitles you want to "burn" into the video
After adding our video with the corresponding route, you'll want to tick the option below that says, "Use a subtitle file." After that, you'll click on "Browse" and import your SRT file.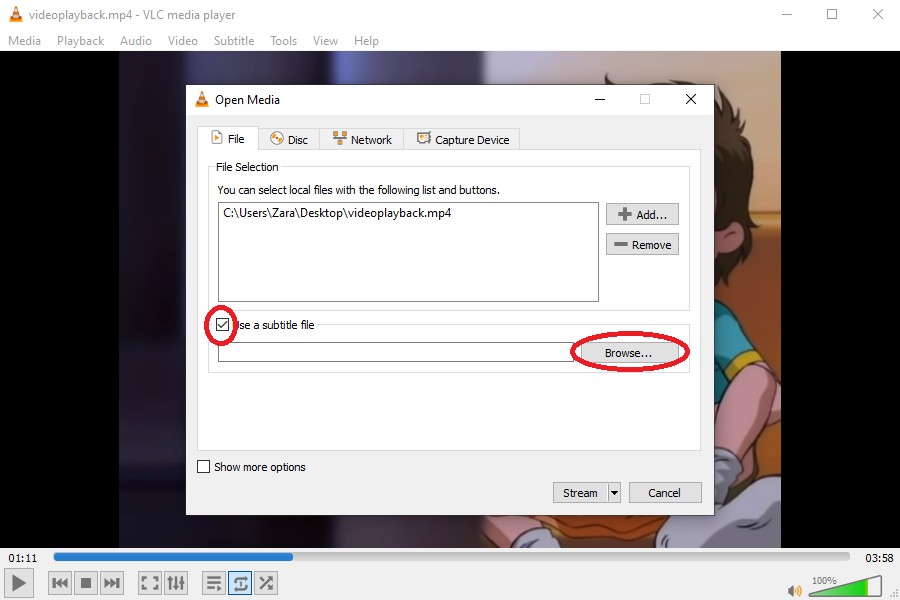 Once that's done, click on the "Stream" button below. Next, you'll be taken to a window where you have to confirm the video source. Click "Next" on the bottom right after confirming your selection.
3. Choose a destination for the stream output file
Now, we have to set the output location for the new video file that we're creating. Select "File" in the dropdown menu and click on the "Add" button next to it.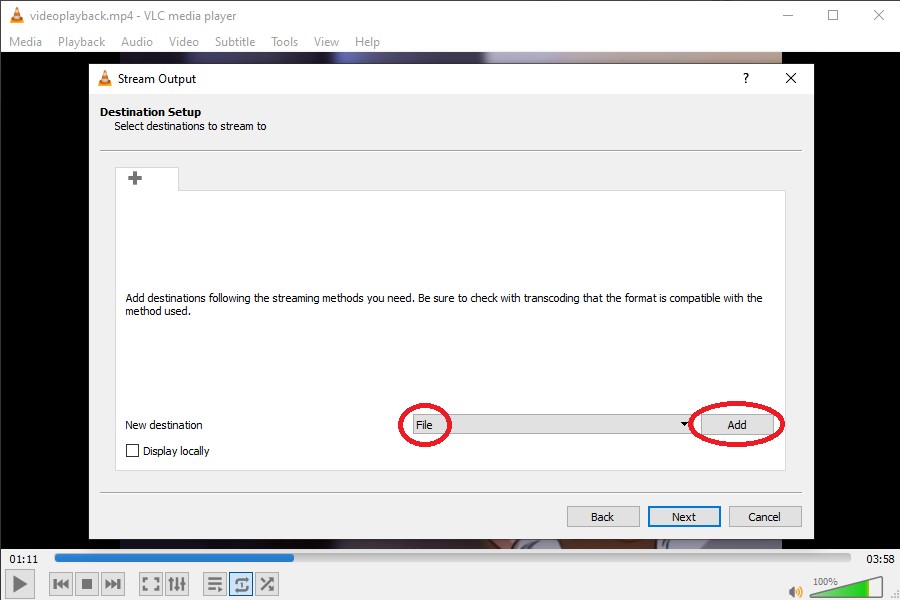 In this next screen, we'll simply have to choose to name the new file that'll be created. Add the name you want the new file to have, and be sure to add the desired file extension at the end of your file's name (i.e. .mp4, .mkv, .ogg, .avi, et cetera). Once that's done, click "Next."
4. Activate the transcoding subtitle options
Make sure to tick the "Activate Transcoding" box. Now, select a profile from the dropdown menu and click on the wrench icon after that.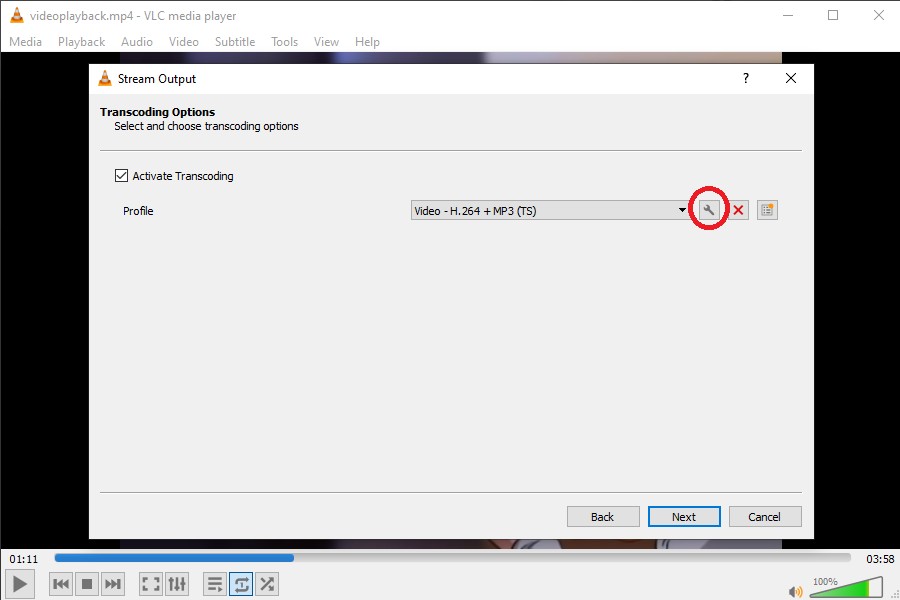 In this new window, move to the "Subtitles" tab. There, you'll have to make sure that two boxes are ticked. The one that says "Subtitles" and the one that says "Overlay subtitles on the video."
Click on "Save", and we'll come back to our previous window, where we'll then click on "Next."
5. Wait for the procedure to finish
Finally, we have to click the "Stream" button located on the bottom right side of the window. The video will playback from start to finish, and then, the playhead on the program will run through it a second time. Let VLC transcode your file. Do not close the program during this process.
After the video is created and the transcoding process ends, you can now quit VLC Media Player.
The Professional's Alternative
That's one way of having subtitles hardcoded into your videos. A hassle-free alternative that can offer even better results is an online service that specializes in subtitling all types of content. At GoTranscript, not only can you have your audio files transcribed and/or translated by some of the best professionals on the market, but we also offer subtitling and closed-captioning services for all your needs.
We can even hardcode subtitles into your media while keeping it optimized and within specifications for any usage scenario imaginable. Broadcast, corporate, streaming, social media - you name it, we got you covered. With thousands of satisfied customers, including industry titans like BBC and Netflix, and a proven 15-year track record, GoTranscript is an obvious choice for all your subtitling and captioning needs.