Transcribing a voice note into written text is not usually something that we think about until we actually need to do it. Then you may suddenly discover that what should be a simple task is a lot more involved and time-consuming than you may have anticipated. Even in today's digital world where cell-phones have voice-to-text capabilities, they are still too inaccurate to provide a reliable transcription in most professional settings. If your search for the best audio transcription app or service has left you confused and frustrated, look no further.
In this article, we will outline the three best audio transcription apps available on your PC and mobile devices. The apps listed below are our top picks to give you the highest quality transcription of your audio and voice for free! Let's get started.
The Three Best Audio Transcription Apps
Services offered: Automatic only (requires Google Chrome)
Price: Free with a Google account
The first entry on our list is the service offered by Google in their Docs suite. This is a service that is only available when accessing Google Docs using the Chrome web browser. Additionally, the automated transcription uses the same voice recognition as the Google Assistant on Android phones. So if the Google Assistant typically does not accurately recognize your speech, you may want to check out the other options on our list.
Once you are signed-in to your Google account, navigate to the Google Docs website (linked above), and then from the Tools menu, select Voice Typing. You will then be able to click the microphone button that appears to begin speaking with the automated transcription.
Note: You will need to manually speak punctuation, such as "comma," "full stop," "new paragraph," and other special operations.
Services offered: Automatic only
Price: Free with a Microsoft account
If you need something just to take quick voice notes and transform them into text without professional presentation or formatting, Microsoft OneNote dictation is for you. As Google Docs Voice above, Microsoft OneNote uses the speech-to-text of your mobile device to transcribe your voice and insert it into a note entry. You will need to sign up for a Microsoft account if you do not already have one. And just as with Google Docs Voice, you will still need to manually speak punctuation, such as "comma," "full stop," "new paragraph," and other special operations.
To use the service, download the Microsoft OneNote app for your iOS or Android device. Next, after launching OneNote, sign in with your Microsoft account when prompted by the app. Then create a new note by clicking the "plus icon" (+) in the lower right-hand corner of the screen. Finally, click the microphone icon in the toolbar at the bottom of the editing window to begin voice dictation. You will also need to grant microphone access to the OneNote app to use this feature.
Services offered: Automatic and human transcription
Price: Free and paid options available
GoTranscript is a company that specializes in providing expert transcription services. The browser-based app (linked above) offers free automatic transcriptions of audio recordings. And for extra assurance of accuracy (up to 99%), GoTranscript also offers a paid service utilizing professional human transcribers. All audio uploaded to the service is also encrypted for security and privacy using a 2048-bit key and an additional NDA (non-disclosure agreement), so you can be absolutely sure that your recordings and your information are kept safe.
To use the service, select the appropriate button to either upload a recording from your device or paste a public URL to a recording. The automated system will check your file. If there is a lot of distortion or cross-talking voices, you will be prompted to use human transcription. The entire process is quick and easy.
Note: If you need a way to record your voice, GoTranscript also offers a free voice recorder for iOS and Android that integrates seamlessly with their transcription service.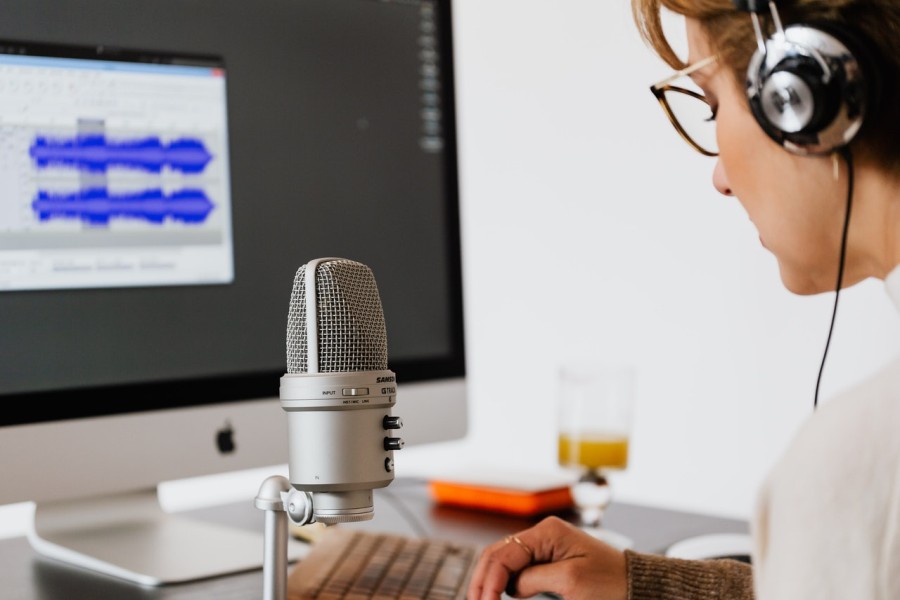 Automated Versus Human Transcription
Automated voice transcription apps are fine for quick notes, but when quality is crucial, there simply is no match for a professional transcription performed by a human. Unlike a machine, a human transcriptionist can understand the nuance of spoken words, a fact which often gets overlooked when considering transcription. With the automated systems, the speaker must manually insert commas, paragraphs, and other punctuation, slowing the workflow and creating poorly formatted text.
In contrast, a human transcriptionist can listen to your speech and create a transcription that accurately represents the content as it was intended. This kind of reliability can not be understated.
Which Transcription App is Right for You?
Ultimately, which transcription app or service you choose will depend on many factors, such as convenience, workflow, budget, and, most importantly, overall quality. Many options provide quick, automated transcriptions, but they all suffer when it comes to quality of the transcribed text. While automated systems keep improving, they are still in their infancy when compared to human transcriptions. If you want the most accurate transcription with the highest level of voice recognition, a real human is still a significant improvement over a machine.
With 15 years of experience and a team of over 20,000 experienced transcribers, GoTranscript is ready to help with all of your transcription needs. If you have any questions or are looking for additional transcription services, feel free to reach out to us so we can find the right solution for you. Join the long list of our satisfied clients today and enjoy a free trial of our services!